Hotel Mohrenwirt - your road bike holiday hotel in the Salzkammergut
Your road bike specialists at Lake Fuschl

Your host Jakob Schmidlechner

Ride with a View
With 'Roadbike Holidays' there is a special offer for road bikers.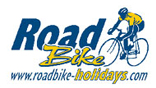 All 40 hotels in 17 regions in the three countrys Austria, Germany and Italy fulfill the requirements of road bikers.
Our members shine with a wide variety of offers, who leave nothing to desire. Quality through compentence.
We are a proud member of 'Roadbike Holidays' and awarded with 3 red dresses. Find more information here.
Your road bike holidays in one of the most beautiful regions in Austria are calling! We would be more than glad to send you an non-binding offer!
This is what a bike day at the Hotel Mohrenwirt could look like:
| | |
| --- | --- |
| 07:30 | Breakfast |
| 08:15 | Collect your Mohrenwirt energy paket (with energy drink, banana, energy bar) at the reception. Last check of the tour with Mr. Schmidlechner or a member of staff |
| 08:30 | Departure for the tour Fuschlsee-Wolfgangsee-Mondsee-Attersee (approx. 100 km) |
| 12:30 | Return to the Hotel Mohrenwirt and refreshment in the hotel bar |
| 14:00 | Relaxation in the hotel's spa with sauna and steam bath or in the heated outside pool of the public beach 'Fuschlseebad' |
| 15:00 | Massage in the hotel or in the "Fuschlseebad" |
| 16:30 | Have a rest in our orchard garden or at our private beach |
| 19:00 | Dinner at the hotel |
| 22:00 | After an invigorating 100km-tour in the morning you're naturally a little worn-out so you decide to chill-out with a movie (free DVD hire at the reception, all rooms are equipped with a DVD-player) |